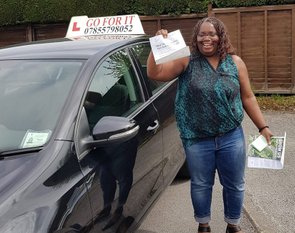 1. Go For It Driving School customers are bound by the companys term's and condition's. If their tuition is delivered by another driving school you are bound by the T's and C's of that driving school.
2. Go For It driving school's beginners offer (3 Free Hours) is non-refundable or transferrable and consists of four hour's of lessons at the start of your course of lessons, with the last two hours to be taken on the day of your practical test. The last 3 lessons are Free so no refund will be due in any circumstances. If lessons discontinue for a period of 12 months, the self employed instructor is not obliged to honour the remaining free lessons. This offer is subject to availability and cannot be used in conjunction with any other offer. It is for beginners only who have not had any previous driving experience of any kind. Each customer can only receive one beginner offer.*Offer hours can only be taken between 9am and 3pm. After 3pm and weekend customers will not be eligible to takethe beginners offer.
3. Prices found elsewhere on previous advertisements/websites, will be superceded by the prices on this website.
4. Go For It driving school instructors will make their services available to the pupil for the purpose of giving driving lessons. The pupil can change to another instructor if required. All Go For It driving school instructors have the correct insurance to deliver professional driving tuition and for you to take your driving test.
5. Breakdowns or accidents are very rare, but can occur on occasion. If this happens the instructor reserves the right to cancel the lesson and rearrange to a time convenient for both the pupil and themselves.
6. Lesson fee's shall be paid at the start of each lesson, lesson prices may change from time to time. See this website for the most up to date price list.
7. Lesson cancellations must be given a minimum of 24 hours in advance. If the pupil fails to give 24 hours notice of cancellation or postponing of any lesson, the pupil will be liable for the cancellation fee which would be the full cost of the lesson.
8. Fast Pass Intensive Courses have to be paid for in advance (Minimum 50% of the course price) of the lessons being booked. The pupil will be liable for the full cost of the lessons/course, if at least 2 weeks notice is not given for cancellation, postponing or changing lessons.
9. If the pupils commits an offence while on their driving lessons the fines and/or penalty points are the pupils responsibility. It is the pupils responsibility to confirm that they are fit and licensed to drive. If not they should inform their Go For It driving instructor if they are under any medication or have any health problems which may affect their driving ability.
10. This agreement (T's+C's) is between the (self employed) instructor and the pupil only and no contractual relationship exists between Go For It driving school and the pupil. Also, the pupil should acknowledge that Go For It driving school has no liability to the pupil in respect of any loss, injury or damage from the use of the instructors tuition vehicle or from the acts or omissions of the instructor, trainee instructor or any other instructor substituted.
11. Any advanced or block bookings to your instructor are made on the understanding that Go For It driving school does not accept any responsibility what so ever for any failure by the instructor being unable to carry out their obligations. Deposits (normally 50%), will not be refunded should the pupil cancel, change or postpone their Fast Pass Intensive Course within 2 weeks of the course start date.
12. The instructor is under no obligation to let the pupil use his/her car for their driving test, should he or she believe they are not ready for the test. The instructor will advise you the pupil in time to cancel or re-book your test before losing your test fee. Go For It driving school is in no way responsible for the instructor failing to do this.
13. All Go For It driving instructors are self employed franchises , they are not employed by Go For It driving school. The majority of our instructors are DVSA Approved Driving Instructors. We do provide training for new instructors and these trainees are eligible to provide driving lessons. They are referred to as Potential Driving Instructors - they have completed their training but have not yet taken their final test. They will display a badge in the window showing their trainee status.