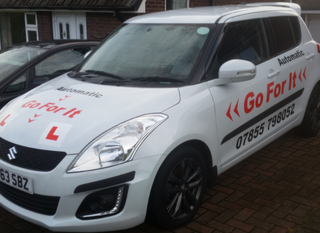 Pass quick
Pass Fast
Get that green licence and get on the road in Langold
If you want to Pass your test in a hassle free way, take less time to do it and pay less, then automatic is for you. No gears, no clutch, just press and go. Driving has never been easier and with the roads so busy, continually gear up and gearing down is a thing of the past. No rolling back on those dreaded hills either. Let the car take the strain instead of you.
Give Rob a ring at Go For It driving school and hit that road to driving test success. Our fully qualified automatic instructor Craig will call you straightaway and book you in at a time and date that suits you. Whatever your skill level or if you're nervous or super confident, Craig will organise your lessons and they will be tailored for you in a way that gives you the best chance of that coverted first time pass.
So don't put it off any longer.
Call today and let's get you moving.
Let's Go For It
Choose Go For It:
For great value automatic driving lessons in Langold and an incredible beginner offer from a name you can trust.

For a Male Driving Instructor in Langold and surrounding areas.

To learn more about driving than just how to pass tests.

To learn with a professional who will tailor a training course for you whether you pick things up fast, or need a little patience.

For pay as you go, semi intensive and intensive driving lessons.
Call us now, we are here to answer all your questions and get you on the road to driving test success! Rob will answer your call. He's not a call centre agent, he's a driving instructor and will have all the answers to your questions. Rob's job is to match you with a driving instructor in Langold that meets your requirements.
On the Road to test success - What do you need to do?
Apply for your provisional driving licence.

Find a driving school in Langold. call us on 07855798052 or complete the contact form (left)

Begin your driving lessons, learn how to drive at your pace.

During your lessons and at home study for the theory test.

Pass your theory test. Check out Rob's 7 tips.

Keep practising with regular lessons.

Discuss booking the practical test with your instructor. The waiting time for practical tests can be quite long so there may be an element of guess work in deciding when you will be ready. If you are not ready, it can be postponed.

Pass your practical test. Check out Rob's 7 tips.

Additional training, pass plus, motorway, refreshers.
A good driver never stops learning. Every day something new will happen and we will have given you the knowledge and routines to deal with it. If you want to learn more - like changing a wheel/bulbs, using SatNav or dealing with tricky local roads, just ask, we can help.
Choose Go For It for your automatic driving lessons in Langold