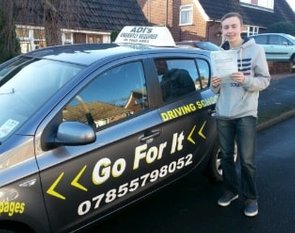 At Go For It Driving School road safety is our primary concern and the safety of our pupils is also our main thought.
For driving lessons in Hoyland we put all these primary issues to the fore front of our learning. Passing the test is also a primary aim and also passing as soon as possible is very important to us as a company. We want our customers to be happy and save as much money as possible, but also be a safe driver for life.
Our driving lessons in Hoyland will be set to benefit your style of learning. To benefit your pocket and to get you on the road as soon as possible. With our Hoyland based driving instructor Gareth taking the lead with your lessons, you've got just the local experience you need to aquire your pink licence in double quick time. Gareth is very experienced with 11 years of driving instruction in Hoyland to call on. Local instructors for local Hoyland people.
So get the difficult bit out of the way by giving Go For It a ring TODAY!! After that it's plain sailing as our instructors swing into action and take you forward. Driving lessons in Hoyland have never been easier and with some unbelievable beginners offers and a great hourly rate it's time to make that call
JUST GO FOR IT !! With driving lessons in Hoyland
Choose Go For It:
For great value driving lessons in

Hoyland

and an incredible beginner offer from a name you can trust.

For Male or a Female Driving Instructor in

Hoyland

and around South Yorkshire.

To learn more about driving than just how to pass tests.

To learn with a professional who will tailor a training course for you whether you pick things up fast, or need a little patience.

For pay as you go, semi intensive and intensive driving lessons.
Call us now, we are here to answer all your questions and get you on the road to driving test success! Rob will answer your call. He's not a call centre agent, he's a driving instructor and will have all the answers to your questions. Rob's job is to match you with a driving instructor in Hoyland that meets your requirements.
On the Road to test success - What do you need to do?
Apply for your provisional driving licence.

Find a driving school in Hoyland. call us on 07855798052 or complete the contact form (left)

Begin your driving lessons, learn how to drive at your pace.

During your lessons and at home study for the theory test.

Pass your theory test. Check out Rob's 7 tips.

Keep practising with regular lessons.

Discuss booking the practical test with your instructor. The waiting time for practical tests can be quite long so there may be an element of guess work in deciding when you will be ready. If you are not ready, it can be postponed.

Pass your practical test. Check out Rob's 7 tips.

Additional training, pass plus, motorway, refreshers.
A good driver never stops learning. Every day something new will happen and we will have given you the knowledge and routines to deal with it. If you want to learn more - like changing a wheel/bulbs, using SatNav or dealing with tricky local roads, just ask, we can help.
Choose Go For It for your driving lessons in Hoyland